There is a way to help your lawn without pesticides or chemicals, and we offer it at Total Pest Solutions! So let's talk a bit about core aeration, what it is, what it does, and how it can help your turf.
What Core Aeration Is: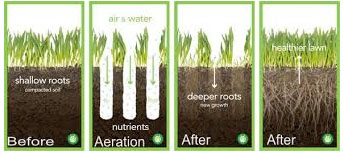 Core Aeration involves perforating the soil with small holes to allow air, water, and nutrients to penetrate to the grass roots. This helps the roots to grow more deeply, and to produce a stronger and more healthy lawn. It's accomplished by using a specialized piece of equipment that mechanically creates small holes in your lawn to achieve this effect.
What are the Benefits of Core Aeration?
The benefits are numerous, and include:
Reduced water runoff and puddling
Improved fertilizer uptake
Stronger Turfgrass roots
Reduced soil compaction
Enhanced heat and drought stress tolerance
Enhanced soil water uptake
How do I get started?
Core aeration is most beneficial when performed annually. To get started, just give us a call at 863.585.3636.