We
control
your ant problem
Our professionals are the best in the pest control industry. Give us a call today.
We offer ant control services and can take care of the colony before it gets out of control on your Polk County, FL property.
Ant Control in Polk County
Ants are pesky creatures that can infest a home or business very quickly. Ants will typically come into a home or office when food is left out or to find a source of water. They live in colonies, which can house as many as 300,000 to 500,000 ants, and they are very small, so they can come in through the tiniest cracks.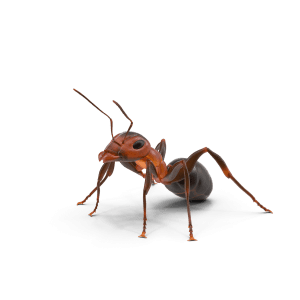 Have you ever wondered why ants are always found in large groups? When a single ant comes into a home, it will leave behind a scent trail that contains its pheromones, allowing other ants in the colony to follow the trail. Unfortunately this trail is completely invisible to the human eye, so it is hard to tell where the ants are coming in or out.
There are several different types of ants, some of which bite and sting. These bites and stings can cause pain, irritation, and even allergic reactions, so make sure to get rid of ants as soon as you see them.
If you see even just a few ants in your home or business, there are likely more on their way. The best option is to give us a call at Total Pest Solutions right away. We offer ant control services in Polk County, Florida and can take care of the colony before it gets out of control. Some do-it-yourself ant control treatments offer spotty results, while others won't do much at all. Our team of ant control experts will come in and use chemicals that will destroy the colony and leave a residue that deters future ants from coming in.
Articles from the pest control industry
Latest news and articles from Total Pest Solutions
Interested in setting up service?
Request a Quick Call
"Outstanding Work"
"I want everyone to know of the GREAT SERVICE and QUALITY of Total Pest Solutions. I have dealt with Randall since he first started & I am extremely satisfied. This company is the first that ever kept my home bug free and the ultimate company for not only satisfaction but also honesty."