We
control
your bee and wasp problem
Our professionals are the best in the pest control industry. Give us a call today.
We'll come up with a bee & wasp control plan that's specific to your property in Polk County, FL.
Although bees and wasps are an important part of our ecosystem here in Polk County, Florida, when they're in the wrong place at the wrong time, they can be a huge inconvenience. If you're tired of bees and wasps taking over your outdoor living space and ruining the time you spend outside, our team at Total Pest Solutions is here to help.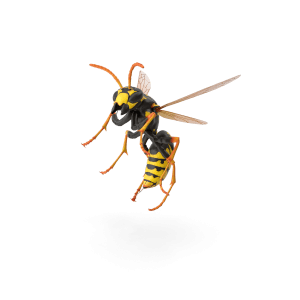 With our bee & wasp control services, we will verify the presence of a nest or swarm and evaluate how extensive the infestation is. We will also identify exactly what type of bee or wasp you are dealing with. After we do that, we'll formulate a bee & wasp control plan to take care of the situation.
Once we implement this plan, we'll be back on a regular basis to make sure it's working like it should and to make adjustments as needed. During all of these steps, we'll communicate with you to make sure you know what's going on with the bee and wasp problem on your property and what we're doing about it.
We've been providing the Polk County area with bee & wasp control services since 2006 and have gone above and beyond for every single one of our clients. We guarantee we'll do the same for you when you have us help with a bee or wasp problem at your home. To schedule a time for service or to find out more about what we do, give us a call at Total Pest Solutions today!
Articles from the pest control industry
Latest news and articles from Total Pest Solutions
Interested in setting up service?
Request a Quick Call
"Outstanding Work"
"I want everyone to know of the GREAT SERVICE and QUALITY of Total Pest Solutions. I have dealt with Randall since he first started & I am extremely satisfied. This company is the first that ever kept my home bug free and the ultimate company for not only satisfaction but also honesty."